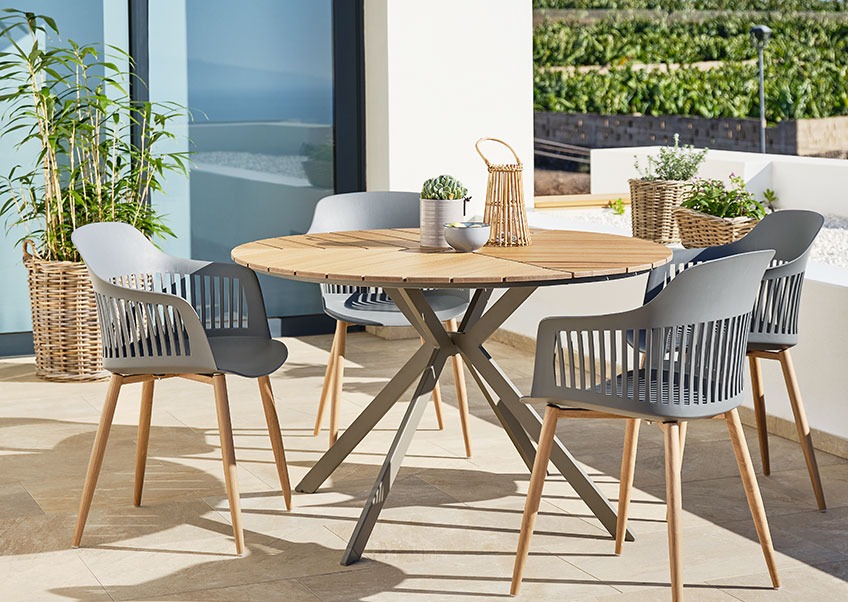 A deck or patio can provide you with outdoor living space that you and your family can enjoy. The perfect place to enjoy meals, barbecues, tea, or other outdoor activities is the garden furniture. It can be difficult to select the right size and shape table for your garden. Different shapes have different benefits for your patio. It doesn't matter if you are looking for an oval, rectangular, square, or rectangular shape, it is worth taking the time to find the one that best suits your needs.
A patio table's nature is such that it can define your outdoor space. It will create walkways that divide your decking or patio into different areas. This will force people to travel along the paths or away from the table. It acts as the heart of your patio and will also define the space's interactions. It will host conversations, drink sharing, and will define the overall character of your patio.
It is important to consider the design of the patio or deck where the garden table will be placed. A table that complements the curves of your space is a good choice. A more contemporary, straight-lined space will be better suited for a simpler design. You should also consider the limitations of your patio space. A rectangular or square-shaped table can take up more space than a round or oval-shaped one. Because the curve is not straight, there are no corners that stick out of the space. A rectangle or square outdoor table, on the other side, can be placed against a wall to save space.
Consider the style difference between a square and a round table. The square style is more contemporary and modern, while the smooth curves of a rounder design will evoke a classic look. There are two main differences between a square and round outdoor table: style and space. Before you go out to buy new garden furniture, it is important to know the space and purpose of the table. The tips below can help you do this.
Here Are Some Table Form Tips:
What Purpose Will The Table Be Used For?
Consider how your family will use the table. Consider the various activities that might be held at the table, such as family barbecues or coffee for two on Sunday mornings. Then consider which shape of the table is most suitable for these activities.
How Big Is Your Deck Or Patio?
Take into account the space on your patio. The size and placement of the table will be affected by its shape. Be aware of the space required for moving chairs around under the table and leg room. Also, consider how much space you will need to walk comfortably around the patio table while people are seated.
How Many People Would It Be Nice To Sit With?
The average number of people who will be seated at the patio table at any given time is considered. Rectangle or oval patio tables can hold more people than squares and circles.
What Are Some Other Shapes You Might Have In Your Garden?
Take a look at other shapes in your garden. Consider whether you have many curved lines, sharp angles, or curved lines in your architecture. Also, consider other features like the style of the house and the shape and size of your lawn. A table with similar lines can blend well with its surroundings. Contrasting lines, on the other hand, can make a statement and take center stage. The layout of your patio will determine where the table will be placed. A round table is more suitable for patios with curving designs than a rectangular one.
Which Type Of Seating Would Suit You?
You should also decide the type of seating that you would like at your table. Most table shapes can be used with individual chairs. A rectangular table works well with most types of tables, but if you prefer a more traditional style, a rectangular one is better. The benches are easier to work with than the long straight sides.